Underwood Ammo 9mm Luger +P+ 90gr. Xtreme Defender 20-Pack
Underwood Ammo 9mm Luger +P+ 90gr. Xtreme Defender 20-Pack
| | |
| --- | --- |
| Brand: | Underwood |
| Mfr #: | 817 |
| UPC: | 816874020149 |
Availability:
Out of Stock
21+ ADULT SIGNATURE REQUIRED ON ALL AMMO ORDERS - NO EXCEPTIONS
No returns on ammunition.
No ammo shipping to: AK, CA, CT, DC, HI, IL, MA, NY.
In NJ: you must email FID + DL before ordering

Reloadable: Y
Boxes Per Case: 10
Cartridges Per Box: 20
Bullet Weight In Grains: 90 Grains
Bullet Type: Copper Solid
Caliber: 9mm Luger +P+
Customer Reviews
09/13/2019
douglas r.
United States
Underwood extreme defender
I havent been able to use it yet as my 9 has a broken firing pin,it will be fixed soon and I cant wait.
Groovy
Im just writing this to say that Robert W's glock looks like it feels like the inside of a Chuck E Cheese ball pit. Good ammo though.
brand excellent,price good
Before I bought this ammo at this store I had all ready I've switched from JHP ammo to the Underwood Xtreme Defender ammo&found out the hard way that it performs as advertised. I acidentally shot myself in the flesh of my outer right thigh.The bullet went in & out and left a massively thick permanent wound channel many times the cirumference of the bullet. After healing, the entrance & exit wound scars are barely 6" apart, however initially, they were at least 12" apart because, and came together as my leg healed, apparently, because the flesh within the wound channel was severely strectched& displaced over my underlying undamaged thigh flesh. Needless to say, after this experience, I concluded that I'd definitively not want a wound from an Underwood Xtreme Defender round ANYWHERE NEAR my abdomen, head or chest. even the entrance and exit wounds were about 3X the size of the round. the entrance wound was very large becuse it indluded flesh that was competely ininerated by the powder flash. I also learned not to trust a simple trigger block on my Glock 17 while tucking it otherwise bare in my wasteband; that the 17, while not designed for overpressure ammo,did expend 1 round without failing.So I bought another box of XD +p+ for my 9 as well as a box of XD .380 ACP for my backup sub-compact from FO using the Ammo Seek app on my phone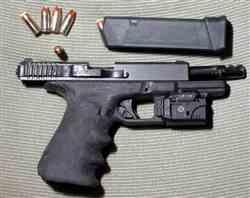 Great service
Item shipped fast and at the lowest price.
defense ammo F35
Great service. Good price
Very accurate. Flawless functioning.
Very accurate. Flawless functioning.
Great service and Best deals as usual
How to describe best deal and service ? F35!!!! And NO I am not paid to say that I am a regular everyday customer looking for the best deals on Ammoseek.com for my self defense ammo.
QUESTIONS & ANSWERS
Have a Question?
Be the first to ask a question about this.
Ask a Question
WARNING: This product can expose you to chemicals which are known to the State of California to cause cancer, birth defects or other reproductive harm. For more information go to P65Warnings.ca.gov. By placing an order on FoundryOutdoors.com you assume all legal liability for complying with your local, state, and federal laws. Federal law requires that you must be at least 18 years old to purchase rifle or shotgun ammunition and 21 years or older to purchase handgun ammunition.

No ammo shipping to: AK, CA, CT, DC, HI, IL, MA, NY.
In NJ: you must email FID + DL before ordering. No handgun ammo shipments to NJ.

For safety reasons, we cannot accept returns on tree stands, ammunition, or any used merchandise.