Fiocchi 300BLKHA Extrema 300 AAC Blackout/Whisper (7.62X35mm) 125 GR SST 25 Bx/ 20 Cs
Fiocchi 300BLKHA Extrema 300 AAC Blackout/Whisper (7.62X35mm) 125 GR SST 25 Bx/ 20 Cs
| | |
| --- | --- |
| Brand: | Fiocchi |
| Mfr #: | 300BLKHA |
| UPC: | 762344711188 |
Availability:
410 in stock.
21+ ADULT SIGNATURE REQUIRED ON ALL AMMO ORDERS - NO EXCEPTIONS
No returns on ammunition.
No ammo shipping to: AK, CA, CT, DC, HI, IL, MA, NY.
In NJ: you must email FID + DL before ordering

Fiocchi 300BLKHA Extrema 300 AAC Blackout/Whisper (7.62X35mm) 125 GR SST 25 Bx/ 20 Cs

- Extrema
- Personal Protection/Target
- 300 AAC Blackout/Whisper (7.62x35mm)
- SST
- 125 GR
- 1343 ft lbs
- 2200 fps
- 25
- 20
- Target/Competition
- Brass
- Rifle

Customer Reviews
01/22/2020
Aaron H.
United States
Great!
Great prices compared to others with shipping
01/06/2020
Travis M.
United States
Ammo
Bullets I wanted for a great price. Shoot very well. Thanks
Literally the best bang for your buck
This is honestly the best ammo I've shot so far with my .300blk. I'm actually fairly glad they aren't more well-known because then the prices would skyrocket. Very precise and accurate (sub-MOA for me and my rig) and the Hornady SST bullet hits HARD. If you want a supersonic .300blk round for hunting, this won't let you down. Fun and accurate to shoot/practice with and the SST is devastating.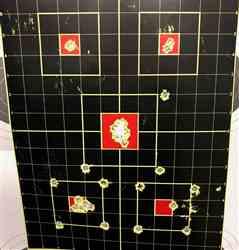 Best deal
Expansion was more than the 125nosler BT and cheaper than the gmx. Pigs drt out of an 8.5in barrel pushing 35yards. Best deal I've seen so far under $1per round.
Picture shows 50 round box, text says 20 rounds. Which is it?

The image has been updated. Thank you for bringing this to our attention.
WARNING: This product can expose you to chemicals which are known to the State of California to cause cancer, birth defects or other reproductive harm. For more information go to P65Warnings.ca.gov. By placing an order on FoundryOutdoors.com you assume all legal liability for complying with your local, state, and federal laws. Federal law requires that you must be at least 18 years old to purchase rifle or shotgun ammunition and 21 years or older to purchase handgun ammunition.

No ammo shipping to: AK, CA, CT, DC, HI, IL, MA, NY.
In NJ: you must email FID + DL before ordering. No handgun ammo shipments to NJ.

For safety reasons, we cannot accept returns on tree stands, ammunition, or any used merchandise.